Speakers for St. Martin/St. Maarten Annual Regional Tradeshow Announced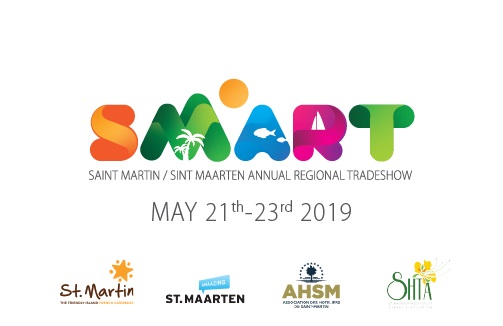 The Saint Martin/Sint Maarten Annual Regional Tradeshow (SMART) 2019 will feature 15 different speakers for workshops and masterclasses, which will provide the Northeastern Caribbean tourism sector with an overview of the latest developments in tourism.
Innovations from both sides of the island, the Caribbean, the United States, and Europe will be highlighted alongside the many business meetings going on during SMART.
"Based on the 2019 theme, 'Innovation & Revitalization,' decided by the four SMART partners, L'Association des Hoteliers de Saint Martin, the Saint Martin Tourism Office, the Sint Maarten Tourist Bureau, and the St. Maarten Hospitality & Trade Association, these topics were selected to facilitate the best possible comeback of the destination," stated St. Maarten's Minister of Tourism, Economic Affairs, Transport, and Telecommunication, Stuart Johnson.
Managers and entrepreneurs will be offered expert workshops on how to further improve their operations. Topics will include social media strategy, deployment of technology, revenue management, the importance of customer reviews, occupancy strategies and customer engagement, increasing customer satisfaction, digital marketing trends, and economic and environmental practices (i.e., the value of being a "green" business in the Caribbean).
"We are pleased to announce that the workshops and masterclasses for this year's conference will be presented by recognizable North American tourism and hospitality companies like Avvio, Flip.to, STR, TravelClick and TripAdvisor, while other established Caribbean innovators from BookSXM, Caribious, InspireFocus, and ShowMeCaribbean will share their best practices with the attendees," stated St. Maarten's Director of Tourism Ms. May-Ling Chun. "Experts like EPIC, in addition to other hospitality institutions, will provide insights on how to make operations more sustainable. Each workshop will take place twice daily, giving delegates the opportunity and flexibility with their SMART appointment schedule to attend the workshops of their interest."
The tradeshow will be held the 21st through 23rd of May 2019 at the Sonesta Maho Beach Resort Casino and Spa. Numerous tour operators, travel agents, travel writers, and event planners from the U.S., Canada, Europe, Latin America, and the Caribbean are expected to attend this important event. In previous years, SMART has featured suppliers from Anguilla, Antigua, Aruba, Barbados, Barbuda, British Virgin Islands, Curaçao, Dominica, Guadeloupe, Montserrat, Saba, St. Eustatius, St. Barthelemy, St. Kitts & Nevis, and St. Maarten-St. Martin.