New Things Coming to the Festival del Caribe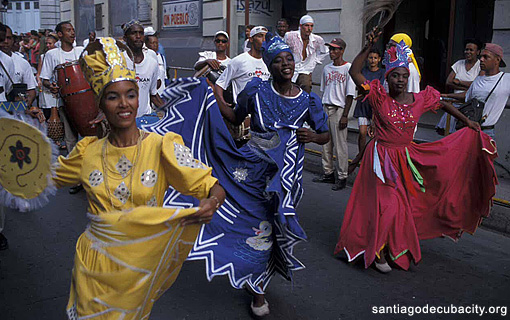 The 35th edition of the Festival del Caribe or Fiesta del Fuego will be coming around from July 3-9 to give the people of Santiago de Cuba a closer look at the very best Caribbean art. This time around, the event will be dedicated to celebrate the 500th anniversary of the foundation of that major city of eastern Cuba and featuring the Bahamas as the guest country.
Click on Santiago de Cuba: A City of 500 Years
The grand opening is slated for the afternoon of July 3 with an artistic show led by maestro Antonio "Tony" Perez. Then at 6:00 pm, guests will attend the closing ceremony of the SIMPOSUB event at the Castle of San Pedro de la Roca, a fortress declared World Heritage by UNESCO.
As the night closes in, the traditional exhibit by Santiago-born fine artist Alberto Lescay Merencio will feature drawings made on rice paper from the series entitled "Amandonos", coupled with the opening of the House of the Bahamas, harbored at the Institute of Peoples Friendship (ICAP is the English acronym).
An international colloquium entitled "The Caribbean that Unites Us" will stretch out July 4-9 with an array of interesting topics open for discussion, including history, Caribbean identity and Santiago traditions. A special moment will definitely be the grand opening of the Caribbean Carnivals and a panel on Cuba's foundational villages.
The main activities of the festival are the traditional parade of the snake, Haitian-Cuban party, carnavalito, delivering the key of Los Hoyos delegation of the Bahamas, the show in honor of the slave rebellion in the town of Copper, the peasant party Platanal de Bartolo and burning of the devil that this time will be from the Dolores Square to Market Square, located in Padre Pico and Aguilera.
As part of the artistic program of the Feast of Fire is the presentation of the carrier groups of traditional folk culture of the whole country and for the first time, the renowned Dominican singers Johnny Ventura, "El Caballo Mayor" and Maridalia Hernández with the band called "La Gallera".
In each edition of the Caribbean Festival peoples of the region are twinned with each other, the audience has the unique opportunity to enjoy all expressions of traditional and popular culture and Santiago de Cuba is reaffirmed as the most Caribbean city of Cuba.