Cuba Travel from the U.S. Set to Bounce Back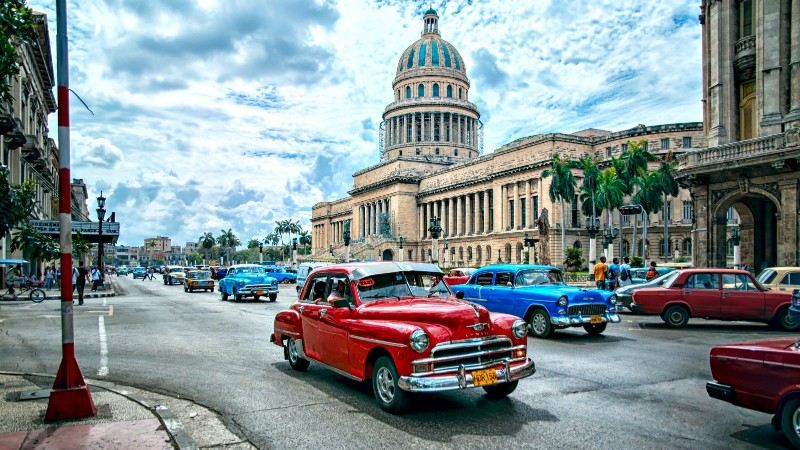 After a decrease in stayover traffic from the U.S. in 2018, U.S. travel to Cuba this year is expected to increase, according to a recent survey of U.S. tour operators and other travel providers by the Center for Responsible Travel (Crest).
Travel to Cuba was hurt by U.S. policy changes in June 2017 that tightened the embargo and closed the loophole for individual travelers, followed by the State Department's travel advisory in September that cautioned U.S. visitors to reconsider travel to the island.
U.S. stayover visitors dropped from 447,683 in 2017 to 297,360 in 2018.
Despite that, Cuba's ministry of tourism reported that 2018 closed with a total of 4.8 million international visitors, up 4.5% from 2017. That included 638,000 cruise and stayover visitors from the U.S., due to a big boost in cruise traffic (from 173,058 in 2017 to 341,000 in 2018), according to Michel Bernal, commercial director for Cuba's ministry of tourism.
The goal for 2019 is 5.1 million international travelers, Bernal said during a press conference last month hosted by Crest.
The State Department advisory softened its travel guidance in August 2018 to a Level 2 warning for travelers to exercise extreme caution, the same designation in effect for much of Europe.
Martha Honey, Crest's executive director, pointed out that that development was an important one for U.S. travel to Cuba.
"Cuba is one of the safest countries in the world to visit," she said. "We are pleased that U.S. tour operators have indicated that American travel to Cuba, especially people-to-people programs, is expected to rise this year."
The easiest way to travel is in a group with a tour operator booked through a licensed people-to-people operator.
"This requires a full-time, daily schedule of activities and meaningful interactions with Cubans," said Kate Simpson, president of Academic Travel Abroad.
Although the 12 categories of travel that were authorized by the Obama administration are still legal, pure tourism was not, and still is not, allowed.
Americans can still travel individually under a category called "Support for the Cuban People," according to Collin Laverty, president of Cuba Educational Travel.
To meet the requirement, travelers must have a full-time schedule of activities that enhance and support the Cuban people.
"This category requires … enhanced contact and activities that provide genuine interactions and exchanges of information and knowledge," he said.
For five years after visiting Cuba, independent travelers are required to keep a journal or record of their itinerary that complies with regulations and documents who they met and what they did while in Cuba, in case they are ever asked by the U.S. government, according to Robert Muse, a lawyer specializing in travel to Cuba.
Travelers can fulfill these requirements by hiring guides for walking tours, taking dance lessons, listening to lectures or hiring private drivers.
Of the respondents to Crest's survey, more than half said they expected their people-to-people travel bookings to increase this year, about 22% expect a decrease and the remainder expect numbers to stay about the same.
More than 60% of survey respondents involved in U.S. study-abroad travel to Cuba expect an increase this year, and 71% of those handling cruise bookings anticipate increases in 2019.
Operators also are seeing growth in corporate retreats, professional delegations and group and incentive business, according to Honey.
As Laverty said, "There never has been a better time to travel, with lots of direct flights from the U.S., cruises, more accommodations coming online and a growing private sector of restaurants, nightlife and attractions."
Source: Travel Weekly