Cuban Tourism: Where It Stands Now and on the Road Ahead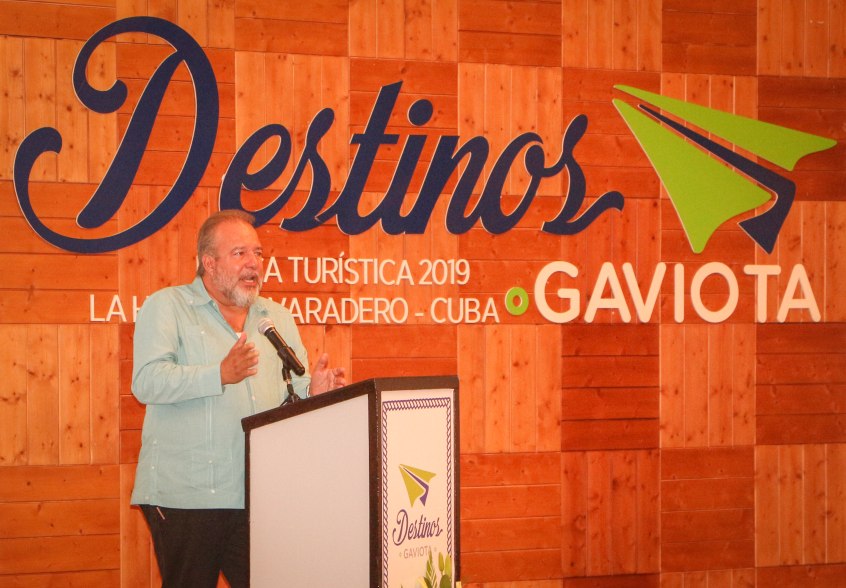 By Jorge Coromina
Cuban tourism remains as the most dynamic sector of the Cuban economy, with significant incomes, especially now that the island is going through new hardships and drawbacks. 
This was noted by Cuban Tourism Minister Manuel Marrero Cruz, who attended the third day of the "Destinos Gaviota" (Destinations Gaviota) that came to a close last week in Varadero with a massive turnout of some 760 delegates from travel agencies, tour operators, hotel companies, airlines and other entities linked to the world of travel and tourism.
After going down on memory lane with the beginnings of the Ministry of Tourism of Cuba, founded after 1959 with the foundation of the National Institute of Tourism, Mr. Marrero stressed that Varadero, the venue of choice of Destinos Gaviota, remains Cuba's top travel destination, followed, in order of importance, by Havana, Villa Clara, Ciego de Avila and Holguin. 
Minister Marrero gave a detailed presentation of the current situation of Cuban tourism and the prospects for future development in the short and medium terms. He explained that the current hotel stock in Cuba amounts to 73,247 guestrooms of international standards. As much as 72% of those rooms rank in the 4- and 5-star categories.
He further said that the entry of tourists arriving in Cuba is made through 10 international airports, 10 marinas and 3 cruise terminals. This ensures that all major Cuban travel destinations are associated with ports of entry. 
Today, a total of 58 foreign airlines, including scheduled and charter airlines, fly to Cuba today, connecting the island with 43 of the world's major cities.
However, the U.S. blockade on Cuba has meant significant losses for the tourism sector, which Minister Manuel Marrero believes now amount to more than $38.7 billion. He added that with the current ban on American citizens to visit Cuba, the island is forced to compete with the rest of the Caribbean for some 15 million tourists, half of the nearly 30 million arriving in the region today. The other 15 million are American travelers that Cuba cannot access to.
"Cuba is the only country in the world, the only country in the world where a U.S. citizen cannot travel freely as a tourist. An American can go as a tourist to Syria, to Iran, to North Korea. The government may not recommend it, but it can't be banned. By law, Americans are prohibited from traveling to Cuba," Manuel Marrero told attendees at Destinos Gaviota.
Foreign Investment in Cuban Tourism
Later in his speech, the Cuban high-ranking official delved into foreign investment linked to the tourism sector. He said that the Ministry currently has a portfolio of opportunities that amasses 176 projects offered to foreign investment. 
He said that in the ongoing year alone, $3.46 billion have been shelled out for the travel sector on the island, of which more than 3 billion are dedicated to the construction of new hotel facilities. This year, he said later, is winding down with over 4,000 new rooms. By 2020, 26 new hotels will open, providing 4,100 new rooms.
He referred to the new hotels that will soon open in Cayo Cruz, a new Cuban destination located north of Camaguey where wonderful nature and exceptional unspoiled beaches prevail. Cayo Cruz has access from both Cayo Coco and The province of Camaguey. 
"Foreign investment in Cuban tourism is aimed at renovating the existing hotel stock and at building new hotels. It is open to real estate developments associated with golf courses; it is open to the development of high-tech theme parks," Minister Marrero said.
International Tourism in Cuba
Currently, Cuba has a repeat rate of tourists of 41.3 percent, especially among Canadian travelers, the Cuban tourism minister said. 30 percent of tourists who travel to the island today have learned about the destination via the Internet, followed by 20.6 percent who learned from travel agencies. The largest percentage, 30.2 percent, arrive in Cuba as recommended by friends and relatives. 
In a breakdown of the reasons why foreign tourists choose destination Cuba, 29 percent come in search of the Cuban beaches, stacked up against 22 percent who arrive to enjoy the local culture and heritage. 23 percent want to make contact with the Cuban people, while 12.8 percent explain that they travel to Cuba because it is a safe destination.
Looking Ahead to the Near Future
The Minister of Tourism of Cuba told attendees gathered at the Hotel Meliá Marina Varadero that the country is engaged in a broad investment process to bring Wi-Fi connection to all hotels in Cuba, in all of their common areas, in the rooms, in the gardens and even on the beaches and tour buses.
"We have started a gradual process so as make wireless Internet connection absolutely free, to piece it together in the travel package that tourists buy," Mr. Marrero said amid a prolonged round of applause from the delegates who attended the event. "Soon, tourists who arrive in Varadero, when they get on the tour buses, they will already be connected to the Internet, with free Wi-Fi access," he added, explaining that the expansion will start with Varadero because it is a travel destination where 4G connection is working everywhere. 
On the other hand, Mr. Marrero said that the Cuban telecommunications company, ETECSA, had signed contracts with several countries that top the list of Cuba's main outbound markets in order to lower the cost of roaming and allow savings in calls made from smartphones. 
Cuba currently has more than 26,742 rooms in private houses that offer accommodation to international tourists, which, until the end of the first quarter of 2019, had received 1,692,695 tourists-days. 
"Today, all cities in Cuba have more private rooms than guestrooms in hotel facilities, not counting the more than 2,000 private restaurants that Cuba boasts today," Marrero Cruz said.
By 2030, Cuba will develop a total of 741 tourism projects, of which 437 belong to accommodation, 92 are linked to recreation, 12 are associated to real estate developments and golf courses, 29 are linked camping, 32 projects are meant for the expansion and improvement of recreational nautical activities, and 82 logistics projects are likened to transportation, storage and other tourism-related tasks.
At the end of his presentation, Manuel Marrero said his ministry is keen on raising quality standards, building new rooms, expanding the use of new technologies in Havana and other cultural cities across the country, improving promotion and marketing, and enhancing all tourist modalities.
"Another priority will be the development of private tourism and the promotion of Cuba as a destination of peace, health and security," the Cuban Minister of Tourism concluded.