The Bahamas Embark on Long Road to Recovery from Hurricane Dorian
04 September 2019 11:31am
The extent of Hurricane Dorian's destruction in the Bahamas — and the humanitarian crisis triggered by the catastrophic storm — came into sharper focus for the rest of the world on Wednesday as official damage assessments and new death counts emerged from the battered archipelago.
Residents desperate to rescue loved ones trapped on Great Abaco and aid groups organizing relief efforts to the devastated islands in the northwestern Bahamas gathered at the airport in Nassau prepared to help. They jockeyed for scarce seats on outbound flights.
Lowree Tynes 36, and Daynan Tynes, 44, from the Abacos, waited at the executive airport in Nassau on Wednesday morning trying to catch a flight home to evacuate about 10 children trapped there.
The kids belong to family and friends who weren't able to get off the island before Dorian made landfall there on Sunday as a Category 5 storm with sustained winds of 185 mph and a storm surge two-stories high, making it the most powerful hurricane on record ever to hit the island.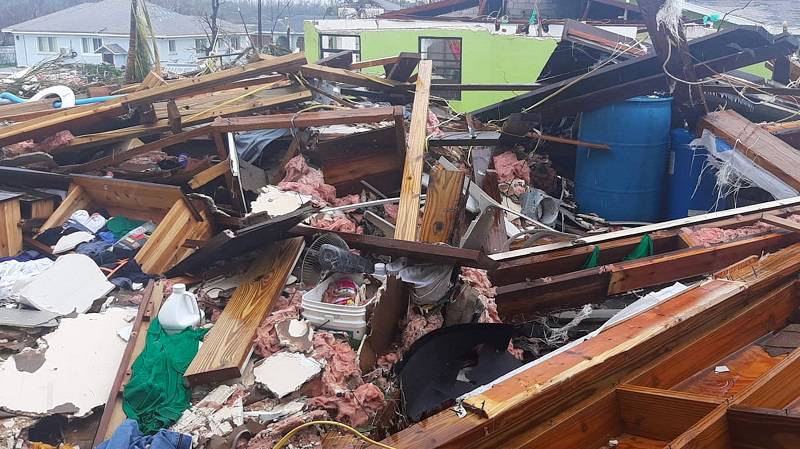 They have also received coordinates of where they hope to find the children. In some cases, the coordinates have changed five or six times — a sign, they fear, that people are fleeing from one precarious shelter to another.
The couple, who run a construction company and design studio in Marsh Harbour, have helped many of their clients over the years build hurricane-resistant homes. But Dorian was different.
Four days after the hurricane hit, the couple also fear their isolated family and friends are likely growing desperate.
They're taking diapers, water, baby food and other first aid items, but it's unclear how long they will wait to get to the islands. The couple were competing with the Bahamian military, aid organizations and the global media to find room on a flight.
Aerial footage of Great Abaco in the northwestern Bahamas revealed the decimation Dorian left behind after making
After flying over the devastated islands on Tuesday, Bahamian Prime Minister Hubert Minnis called the storm's aftermath "one of the greatest national crises in our country's history."
At least seven people have died and many more have been reported missing as a result of Dorian, which decimated most of the homes in Marsh Harbour, the capital of Great Abaco, and wiped out a shantytown known as The Mudd.
The storm's high winds and muddy brown storm water took out hospitals and airports, deluged roadways and trapped people in their homes. A group of 30 people were rescued from floodwaters in the Abaco Islands on Tuesday, but many more needed help as search-and-rescue operations were underway.
About 400 people took shelter at the clinic in Marsh Harbour, the Pan American Health Organization reported. At least 20 critical patients were evacuated from Abaco to the Princess Margaret Hospital in Nassau.
Extensive flooding in Abaco and Grand Bahama Island, where Dorian stalled for two days, damaged the Rand Memorial Hospital in Freeport, contributing to a public health challenge.
In response to the crisis, Florida Rep. Shevrin Jones, a Democrat who has family in the Bahamas, called on the Trump administration and federal lawmakers to make it easier for Bahamians fleeing the storm's aftermath to enter the United States.
With many parts of the Bahamas unreachable by officials, many residents took it upon themselves to help their neighbors. Bahamians used jet skis and a bulldozer to rescue trapped residents as the U.S. Coast Guard, Britain's Royal Navy and aid groups tried to get food and medicine to survivors. By Tuesday, at least 29 people had been rescued.
By nightfall Tuesday, with no power on Great Abaco and much of the island cut off from communication, reports of looting and lawlessness surfaced on social media, where scores of people shared cellphone videos, pictures and other personal accounts of Dorian's destruction.
Minnis said his government will be increasing security on the island. The prime minister and his team had tried to travel to Grand Bahama island but had to turn back due to weather.
Source: Union Bulletin