Solo Patagonia Brings the Very Best of El Calafate​
By José Carlos de Santiago
Within the framework of the International Tourism Fair (FIT) 2021 in Argentina, Caribbean News Digital sat down with Daniel Hosain, Communications Director of Solo Patagonia, the most important and oldest tour operator in El Calafate.
When was Solo Patagonia created and what is its specialty?
Solo Patagonia is the oldest tour operator in Calafate, with 60 years of existence. Our premium experience is called "Todo Glaciares". It is a navigation experience on the Argentinean lake. 
We have two modalities: we have a standard modality and a premium modality, which we call Captain's Club. This is a modality that has exclusive services for passengers, either in an area, it is done in the largest ships we have, it is done in a specific area of the ship, and it also has a distinctive premium menu for customers.
Is cuisine based on local gastronomy?
It is local gastronomy. There are regional products, also mixed with international products, because champagne is served and other types of things are served, but it is a local gastronomy, and aimed at completing a very important experience of enjoyment, which is given in the place. 
Two years ago, we added the Spegazzini Glacier descent. The Spegazzini Base is a mooring base, the only mooring base in the whole Glacier National Park. It belongs to the National Park. It is a mooring with a path that leads to the Spegazzini Refuge, which is also a beautiful place, where you can enjoy local cuisine, where there is a store to buy souvenirs, where there are a lot of very nice experiences and a view that is unique in the world. Not to be repeated.
What kind of boats do you have and how do you make the trips?
We have catamarans ranging from 160 passengers, they are two large catamarans, to more than 300 passengers. We have several and depending on how the trips are combined, it is the type of catamaran.
When an operator from any issuing country wants to contact you, how can they do that?
We have our website (https://solopatagonia.com) and our social networks. We also have one of the girls who deals with online sales through Whatsapp and through social networks. Basically it is a very strong channel that we have for sales, for marketing the experiences.  
The Solo Patagonia Maritime Experience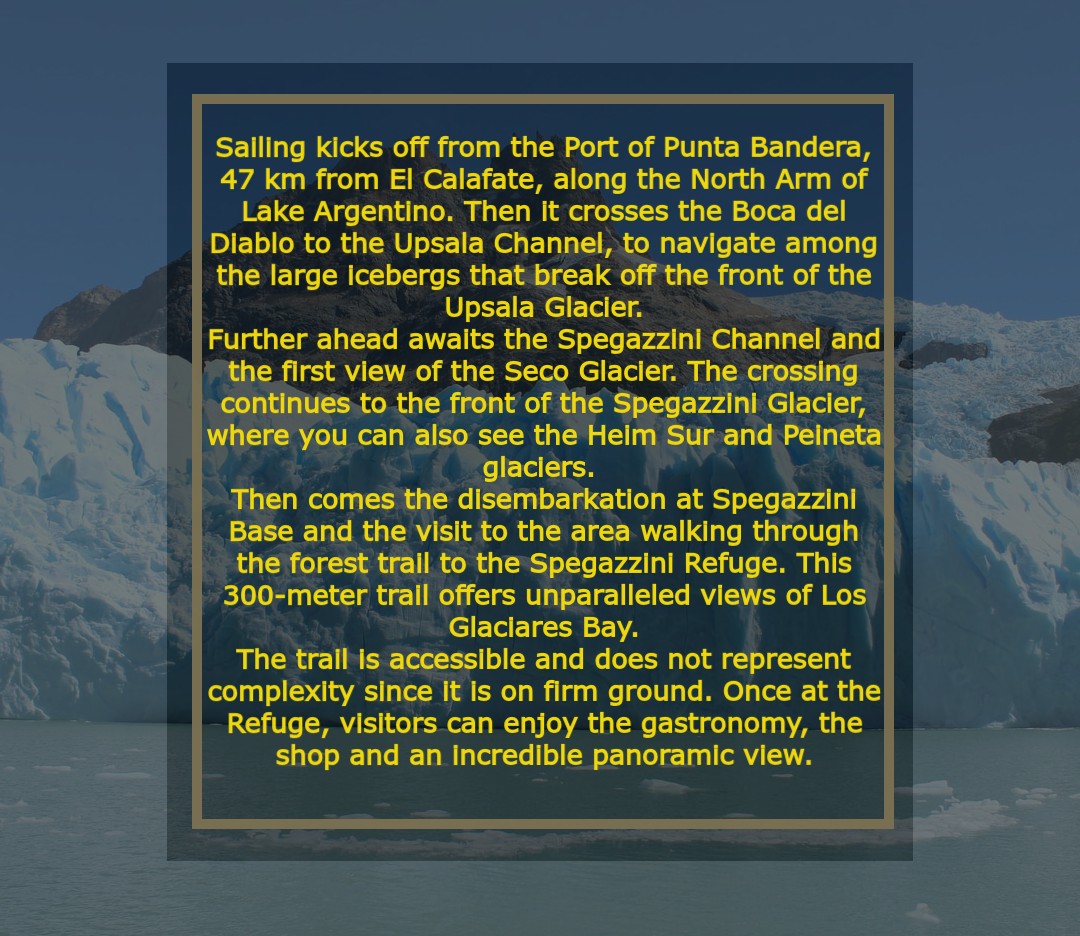 You were telling me about 60 years of experience. Who founded this tour operator?
This belongs to the Fernandez Campbell family, who was the first creator and whose children are still running the company today. It is a company that was born as and continues being a family business, but today it is a very big company that has many employees and a very important company structure.
Do you manage air means?
No, we do not have air means, but we do have ground transportation. We have sea transportation and land transfers because the places, both Puerto Bandera and the Perito Moreno Glacier, are several kilometers away from the city.
From the city and in the lodgings, how do you work?
We do not have accommodation, we only have the navigation and gastronomic experience.
How did you fare through the pandemic?
It was very hard, the pandemic was a very hard blow. Many months of inactivity, the company was reduced a lot.  The company was kept alive. The operation was obviously reduced a lot and a few months ago thanks to the Government's Previajes plan; it is a reimbursement plan for everything that is done in tourist experience, we started the movement again and together with that we also reached a stage of a very high vaccination rate in Argentina. Besides the fact that the vaccination rate is very high, the summer also favors us. That combination of things makes that today the activity is normalizing at an interesting pace.
Nearly 100% national?
At the moment, yes. Tourism out there has dropped a lot and there is a lot of local tourism, a lot of national tourism. However, Solo Patagonia and Calafate in general, is a very strong international tourism destination.
The Argentine Government, through INPROTUR, has made a very strong campaign to position the country. What is your opinion about that?
I think it is excellent. The Government has put a lot of instruments in favor of tourism here in Argentina, both to promote tourism at the local level and to position Argentina again in the international position we have always had and which, fortunately, is very good. And all the policies that the Government is taking are very interesting.