BTO: The Five-Day Event Brought Satisfaction to Italy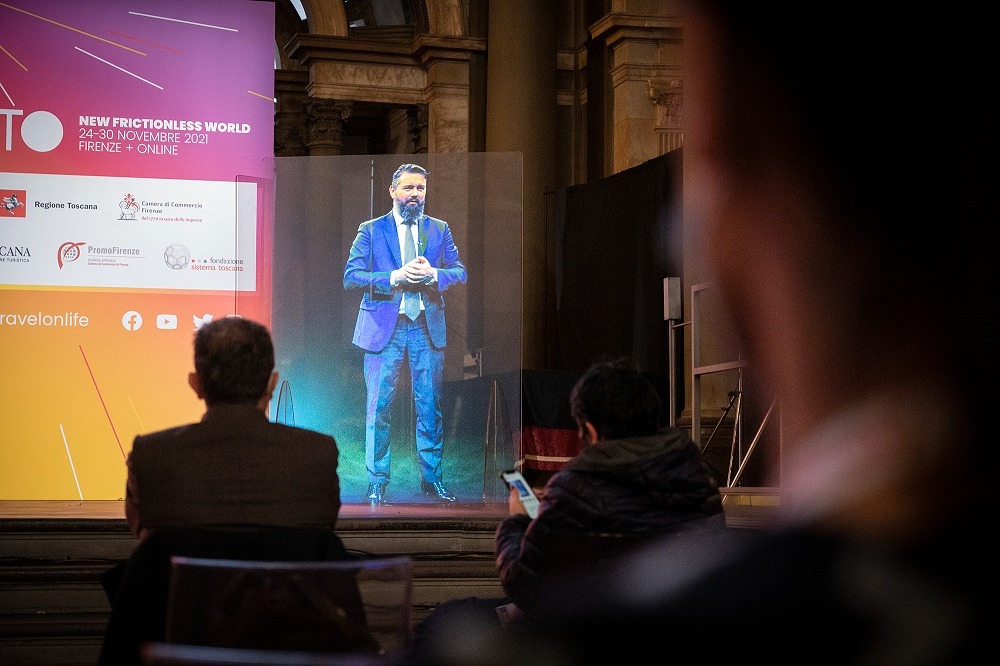 The first hybrid edition of BTO -Be Travel Onlife- closed with a completely positive balance: over 10,000 remote views, 274 expert speakers from the Travel Industry, 102 events distributed over five days and three different locations, with guests in attendance, in virtual connection and also in hologram version. Florence will once again host next year's edition in November.
The innovative format made it possible to involve international participants and experts from 24 countries. In the top 10: Italy, USA, Finland, Austria, Switzerland, UK, Netherlands, Ireland, China, Belgium, Japan.
Tour operators and representatives of the destinations, the main targets of BTO, actively participated in the 4 main themes of the 2021 edition, totaling over 10,000 live attendances at the events. The most followed by audience, the Digital Innovation & Strategy Day, the heart of the event, followed by the day dedicated to Destinations, the one specifically reserved for the Hospitality world and the one dedicated to Food & Wine Tourism. 
A ranking probably supposed to change, considering the fact that food and wine tourism is establishing itself, in these times of change, as one of the driving elements of the sector for the future, together with the growing search for more authentic and closer destinations.
On MyBTO, the online platform of the event, organized by Toscana Promozione Turistica, PromoFirenze - Special Agency of the Florence Chamber of Commerce and Fondazione Sistema Toscana, the activities dedicated to the four key themes exceeded 75 thousand minutes.
At the end of the BTO Week, the event now continues for members and for all those who wish to purchase access to the platform, giving the opportunity to relive the events online with 5.000 minutes of high-level tourist training content fully accessible on the web.
"This thirteenth edition of BTO was a success, unthinkable, only a few months ago with the restrictions of the pandemic, but in the end a large and complete event resulted - comments Leonardo Marras, Councilor for Economy and Tourism of the Tuscany Region - BTO for us is an important appointment, it represents the junction in which the report of what we have done is made and valuable insights are collected to understand what we could do for the following year. It is very difficult to understand where the world is going today and digital is central, even in the tourist experience, both for the public and for the destinations. Let's take advantage of the stimuli and ideas heard in the last week and immediately get to work for the 2022 edition."
The counselor is not the only one to rejoice. Leonardo Bassilichi, president of the Chamber of Commerce of Florence, adds to the chorus: "The success of this edition of BTO is a good omen not only for the tourism sector, which is restarting after a very difficult year, but also for the whole economy, thanks to the excellence of our territory and the desire to grow of our companies, which the Chamber of Commerce accompanies every day on the internal market as on international markets, in digital development as in the protection of brands and intellectual property and in the discovery of new businesses . BTO is also the confirmation that collaboration between institutions produces excellent results."
Last word to conclude the balance of the event to the scientific director Francesco Tapinassi:
"I would like to thank all those who contributed to the realization of such a complex event, to our advisory board, to the five thematic coordinators, to all the organization and communication staff who really did an excellent job. This edition has tried to make digital innovation tangible and concrete, trying to use every technology to connect people, and identifying in the phygital solution the one that best describes a new conference model, attentive to the theme of sustainability and respect for the environment, thanks to the reduction of travel required to participate. From the experimentation of the holograms interviewed live, to the participation of guests from all over the world, every moment was aimed at enriching the most interesting testimonies and experiences. A special thanks is therefore to the 274 speakers, who, with their precious presence, have allowed us to make a completely new BTO and much appreciated by our participants, who will be able to review the contents of our panels whenever they want."