VisitMalta & Heritage Malta, Guest Destination CULTOURFAIR 2022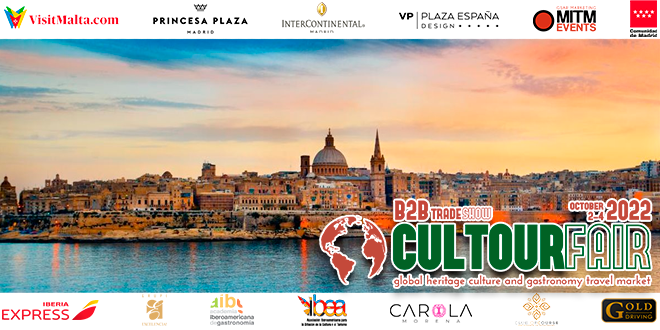 VisitMalta & Heritage Malta, will participate as Guest Destination in the 9th edition of CULTOURFAIR – Global Heritage Culture and Gastronomy Travel Market – taking place from the 2nd to the 4th of October at the Hotel Princesa Plaza, a long-standing bulwark of quality in the capital.
VisitMalta & Heritage Malta, will shine a spotlight on the island´s rich cultural, religious, and ancestral traditions. From the Megalithic Temples, all the way to the Hal Saflieni Hypogeum, or even the capital itself  – Valletta – each of them UNESCO World Heritage Sites.
CULTOURFAIR´s objective is to position high standing cultural tourism on an international scale, for this purpose, up to 50 international premium buyers — all of them decision makers and executives — will be selected to participate from companies specialized in the organization of: luxury travel, events (sport, concerts, oenology, gourmet, etc.), MICE, tour operators, city-breaks, heritage, gastronomy, folklore, religious etc.
Likewise, Iberia Express joins the event as an official sponsor, offering a generous discounts to all participants, as well as offering flights for the Ibiza Post-Tour, organized by Fomento del Turismo de la Isla de Ibiza & Descubre Ibiza, with the collaboration of the Consell de Ibiza, and Ibiza Travel.
CULTOURFAIR — the only B2B high standing cultural tourism tradeshow in the world exclusively geared towards professionals — has the support and trust for a second consecutive year of the Comunidad de Madrid as an official sponsor; once again emphasizing the Community´s excellence in the cultural tourism sector, both in tangible and intangible form, showcasing the relevance of CULTOURFAIR as one of the ideal scenarios for its cultural promotion.
The program for the event offers an agenda of up to 30 pre-established appointments with rigorously selected buyers. The workdays will be completed with a high-standing networking program, boosting contact between all participants and fostering business-links, thus guaranteeing a return on investment.
In the previous edition, in 2021, more than 2,000 business meetings were held with an estimated impact in the medium and long term of more than 200 million euros.