Britons, Tourists Make Long Lines to Pay Tribute to the Queen 
16 September 2022 12:54am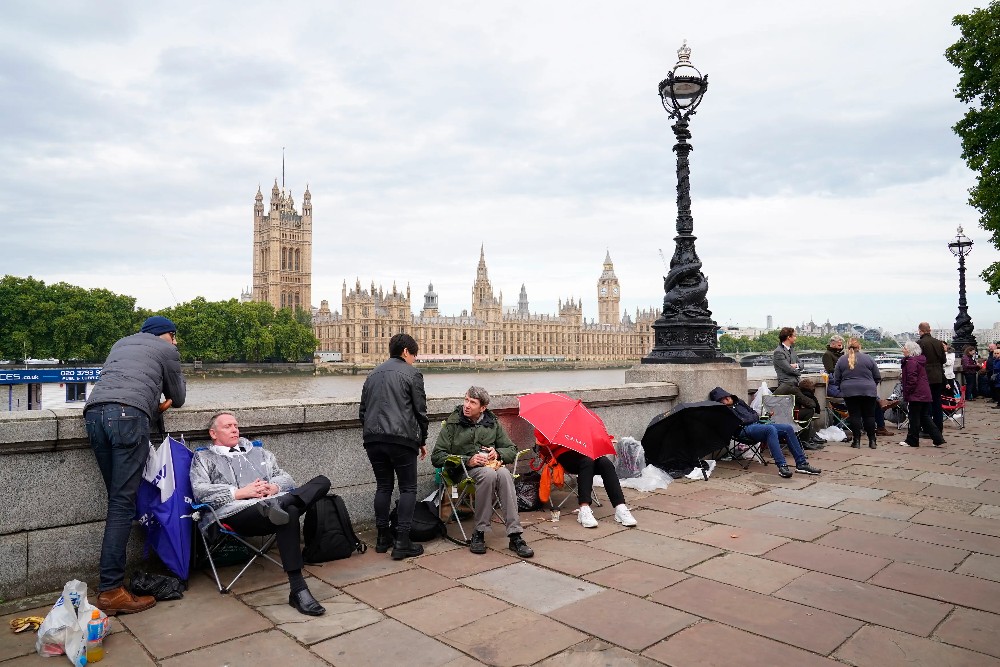 (AP) - Queen Elizabeth II's lying-in-state will be an occasion of regal symbolism, strong emotion — and an extremely long line.
Marshaling the hundreds of thousands of people who want to view the late monarch's coffin will test Britain's famous queuing skills to their limit.
Authorities overseeing the mammoth logistical challenge have consulted queue management experts and behavioral scientists to create not so much a line as a temporary community. It features 10 miles (16 kilometers) of "queuing infrastructure," including moveable barriers and more than 500 portable toilets along a route leading to Parliament's Westminster Hall, where the coffin will rest.
Hundreds of stewards, police officers and first-aid providers were assigned to look after the waiting crowds. Thirty multi-faith pastors and volunteers from a suicide prevention organization have been tasked with responding to the emotional needs of anyone who might be struggling. A pair of sign language interpreters also were expected to be on hand.
On Wednesday, the queen's coffin was carried in a solemn procession from Buckingham Palace to Westminster Hall, where it will lie in state from 5 p.m. (1600 GMT) until 6:30 a.m. (0530 GMT) Monday, the day of her funeral.
Two hours before opening time, the line of mourners already stretched for 2 miles (3.2 km) from Parliament across nearby Lambeth Bridge and snaked along the south bank of the River Thames. The designated route stretches for 6.9 miles (11 kilometers) past the National Theatre, Shakespeare's Globe, the Tate Modern art gallery and Tower Bridge to Southwark Park in south London, which can accommodate another 3 miles (4.8 km) of zigzagging queues.
Officials say they can't predict how many people will line up to pay their respects at Westminster Hall, but it is likely to be many more than the 200,000 who visited the Queen Mother Elizabeth's coffin over three days in 2002. Transit operator Transport for London estimates that more than 1 million people will travel to the city center to be part of commemorations through Monday.