Hurricane Delta Jumps into Cat 4 Storm, Heads for the Gulf Coast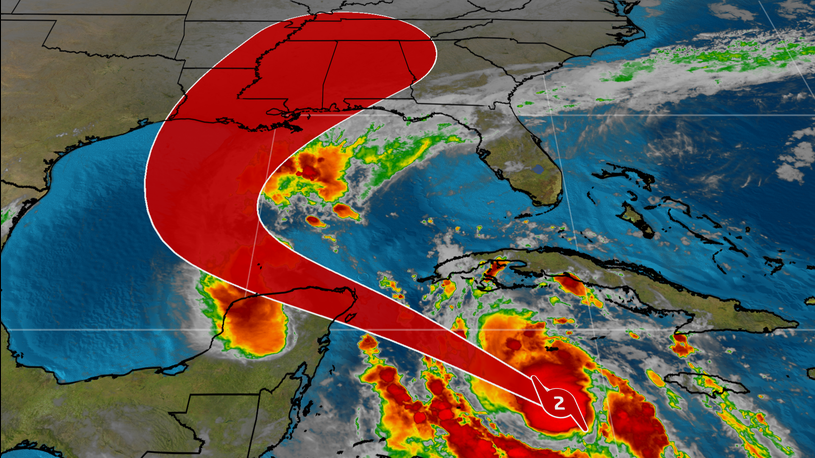 Meteorologists have put the Gulf Coast of the United States on high alert for what could be a disastrous strike later this week by a very dangerous hurricane. 
Overnight and through early Tuesday morning, Hurricane Delta escalated quickly into a Category 4 storm and forecasters warn it could strengthen even more before it strikes the Yucatan Peninsula. After that, forecasters expect Delta to emerge over the extremely warm waters of the Gulf of Mexico, where it could maintain its strength for a time.  
The hurricane's winds had increased to 130 mph by 11:20 a.m. EDT Tuesday just over 24 hours after it became the 25th tropical storm of the 2020 Atlantic hurricane season. Delta became the first major hurricane to churn over the Atlantic basin during the month of October since Hurricane Michael in 2018. 
Delta's intensification was the most extreme in 15 years for an October hurricane. The storm's maximum sustained winds increased by a whopping 70 mph — from 40 mph to 110 mph — in its first 24 hours as a named storm. 
Only Hurricane Wilma in 2005 exploded in a more significant fashion over that same 24-hour period. Delta has also set a speed record for strengthening from a depression to a Category 4 hurricane. Delta accomplished this in just over 36 hours, and surpassed Keith from 2000, which did so in 42 hours.
At 2 p.m. EDT Tuesday, Delta was packing winds of 140 mph and was chugging along west-northwest at 16 mph. The Category 4 hurricane was located about 260 miles east-southeast of Cozumel, Mexico.   
Satellite images showed that Delta was an incredibly compact hurricane on Tuesday morning. Hurricane-force winds extended outward only up to 25 miles from the storm's center, but a small eye about 4 miles across had developed, a sign that forecasters said indicated rapid strengthening.  
U.S. officials were already urging Gulf Coast residents to be prepared ahead of the intense hurricane. Louisiana Gov. John Bel Edwards said early Tuesday that Louisianans should have a game plan now as the fourth storm of the season to threaten Louisiana. 
Delta is expected to make landfall as a major hurricane of at least Category 3 strength over over south-central or southeastern part of the state late Friday or early Saturday, becoming the first-ever hurricane named after a Greek letter to strike the U.S., and the 10th storm of the season to make landfall in the continental U.S. — a new record.