Camino de Santiago Pilgrims Help Rural Spain's Villages
(AP) - Amid the vast grain fields of Spain, a medieval church stands guard over the handful of adobe homes where some 50 people live — and twice as many travelers along the Camino de Santiago spend the night this summer.
Terradillos de los Templarios, and dozens of villages like it, were built to host medieval pilgrims walking the 500-mile (800-kilometer) route across Spain to the Apostle James' tomb in Santiago de Compostela. Today's Camino travelers are saving them from disappearing.
In this hamlet named after a medieval knightly order founded to protect pilgrims, and all along the route, the return of travelers — after pandemic-related disruptions — is helping restore the livelihood and vitality of villages that were steadily losing jobs, population, even their social fabric.
"If it weren't for the Camino, there wouldn't even be a café open. And the bar is where people meet," said Raúl Castillo, an agent with the Guardia Civil, the law enforcement agency that patrols Spain's roads and villages. He's spent 14 years based in Sahagún, eight miles (13 kilometers) away, from where agents cover 49 hamlets.
"The villages next door, off the Camino — they make you cry. Homes falling in, the grass sprouting on the sidewalks up to here," he added, gesturing to a tabletop.
From the Pyrenees Mountains at the border with France, across hundreds of miles of Spain's sun-roasted plains to the mist-covered hills of Galicia rolling toward the Atlantic Ocean, once-booming towns of farmers and ranchers started hemorrhaging population in recent decades.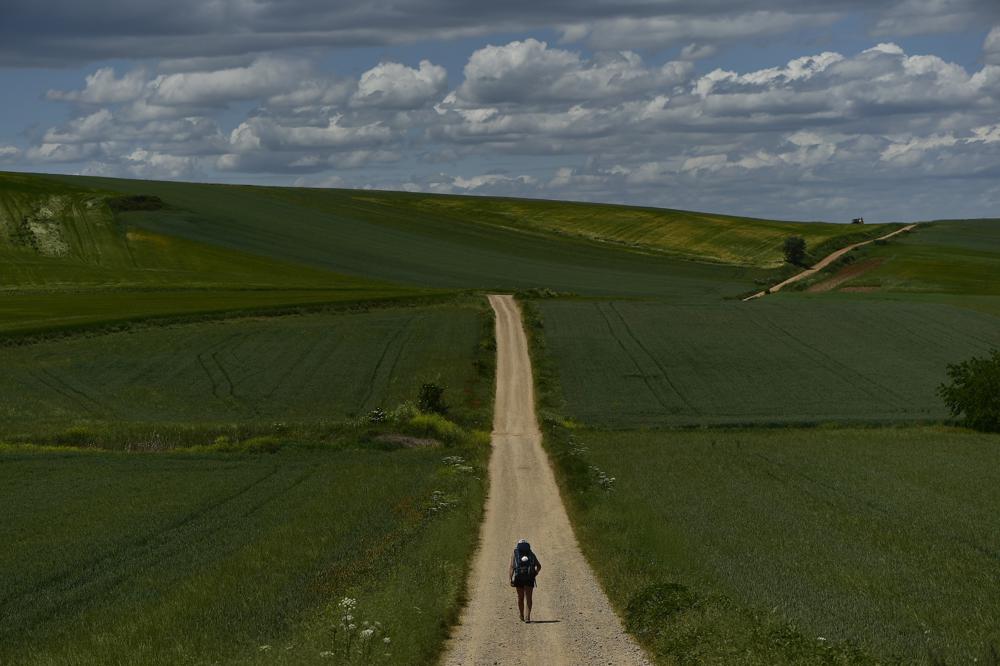 Starting in the 1990s, the Camino regained international popularity, with tens of thousands of visitors hiking and biking it each spring, summer and fall. After a serious dip amid the pandemic in 2020 and the start of recovery with mostly Spanish pilgrims in 2021, 2022 feels like the "at last" year, as Quintana put it, with more than 25,000 visitors in May alone on the most traditional route, the "French way."
With daily visitors outnumbering residents tenfold in the tiniest hamlets, the impact is huge.
The Camino helps create jobs and maintain the cultural heritage, said Melchor Fernández, professor of economics at the University of Santiago de Compostela. "It has put the brakes on depopulation," which is 30% higher in Galician villages off the Camino.
"The Camino wouldn't have a reason to exist without pilgrimage," said Jesús Aguirre, president of the Association of Friends of the Camino de Santiago in Burgos province. "One can do it for different reasons, but you keep imbuing yourself with something else."